Are you looking for an alternative to Semrush? You're not alone. Semrush is great, but it's not for everyone.
It's an all-in-one digital marketing tool that comes with a hefty price tag; not everyone can afford it. That's why we've compiled a list of the best Semrush alternatives for any budget.
These 11 Semrush alternatives offer powerful keyword research tools, competitor analysis, website audits, and more. Plus, some of them are incredibly affordable.
Let's dive in and find out which one is the right fit for you.
Table of Contents
What is Semrush?
First of all, what is Semrush? Semrush is an SEO and digital marketing tool that helps you take your online marketing to the next level. It gives you insights into your competitors' strategies, helps you with keyword research, monitors your online presence, and more.
The tool has a huge database of backlinks, allowing you to quickly and easily identify any potential link opportunities.
It also has an extensive keyword research tool, letting you track and analyze keywords to increase your website's visibility.
On top of that, Semrush offers an audit tool to help you identify any potential issues on your website. This tool can help you improve your website's overall performance and rank higher in search engine results.
Another nice thing is if you have a google ads account, you can track your paid keywords and traffics, also based on insights, improve your google ads spending.
All of these features make Semrush an invaluable tool for any digital marketer, but it comes with a hefty price tag. That's why many people look for cheaper Semrush alternatives.
What to Look for in a Semrush Alternative
When looking for an alternative to Semrush, you should look for tools that offer similar features. Here are some of the features you should look for:
Keyword research tools
Competitor analysis
Website audit
backlink analysis tool
Social media presence analysis
Paid keywords rank tracker
Other SEO tools
These are all features that you can find in Semrush. If you find a tool that offers all of these features, then you've found a great Semrush similar SEO tool.
5 Best Semrush Alternatives
Now that you know what to look for in a Semrush alternative, let's take a look at 5 of the best SEO tools options available even a couple of free Semrush alternatives.
1. SEO PowerSuite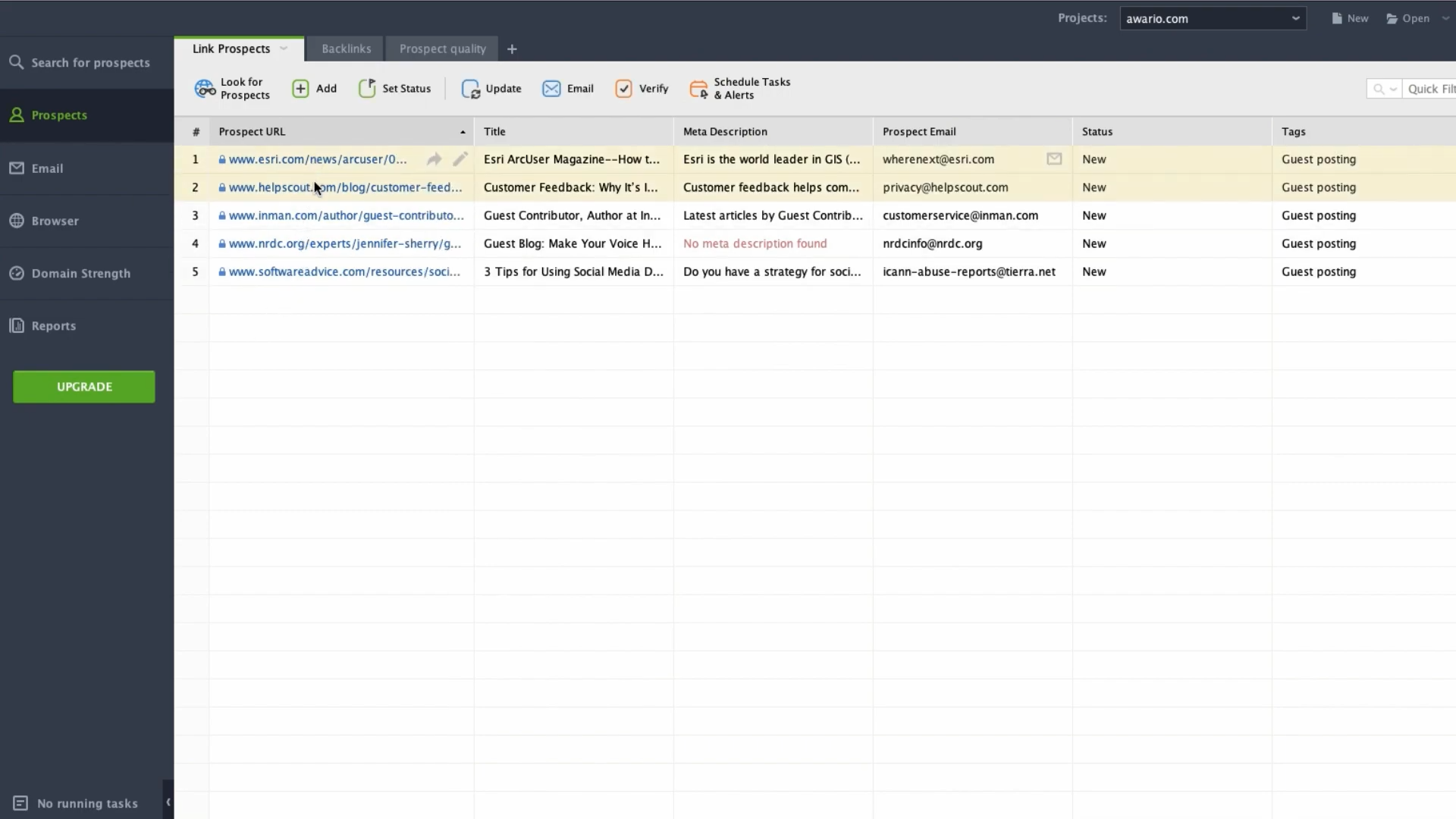 In terms of SEO tools, SEO PowerSuite can handle an operation of any scale. There are several essential SEO tools included, such as keyword research, backlink analysis, content editors, keyword rank tracker, in-depth website audit, and more. Everything to help you build your SEO strategy.
The combination of its user-friendly interface and extensive set of advanced functions makes it an ideal SEO tool for both novices and seasoned professionals.
Pros
You'll get access to 19 distinct keyword research and recommendation tools, each of which provides detailed information about the volume and effectiveness of each phrase you're tracking.
Backlink analysis tool – they analyze more than 50 different metrics of a website's backlink profile before delivering insightful reports and insightful suggestions for link development, a great way to monitor backlinks.
During an inspection, broken links and missing HTML code were discovered. You will also be provided with optimization ideas to enhance your page's indexing and ranking.
You may learn a lot about your rivals' backlinks, keywords, and content strategy by using their competitive analysis tool.
Cons
SEO Powersuite is not a cloud-based software, you will need to get a desktop application and then install it.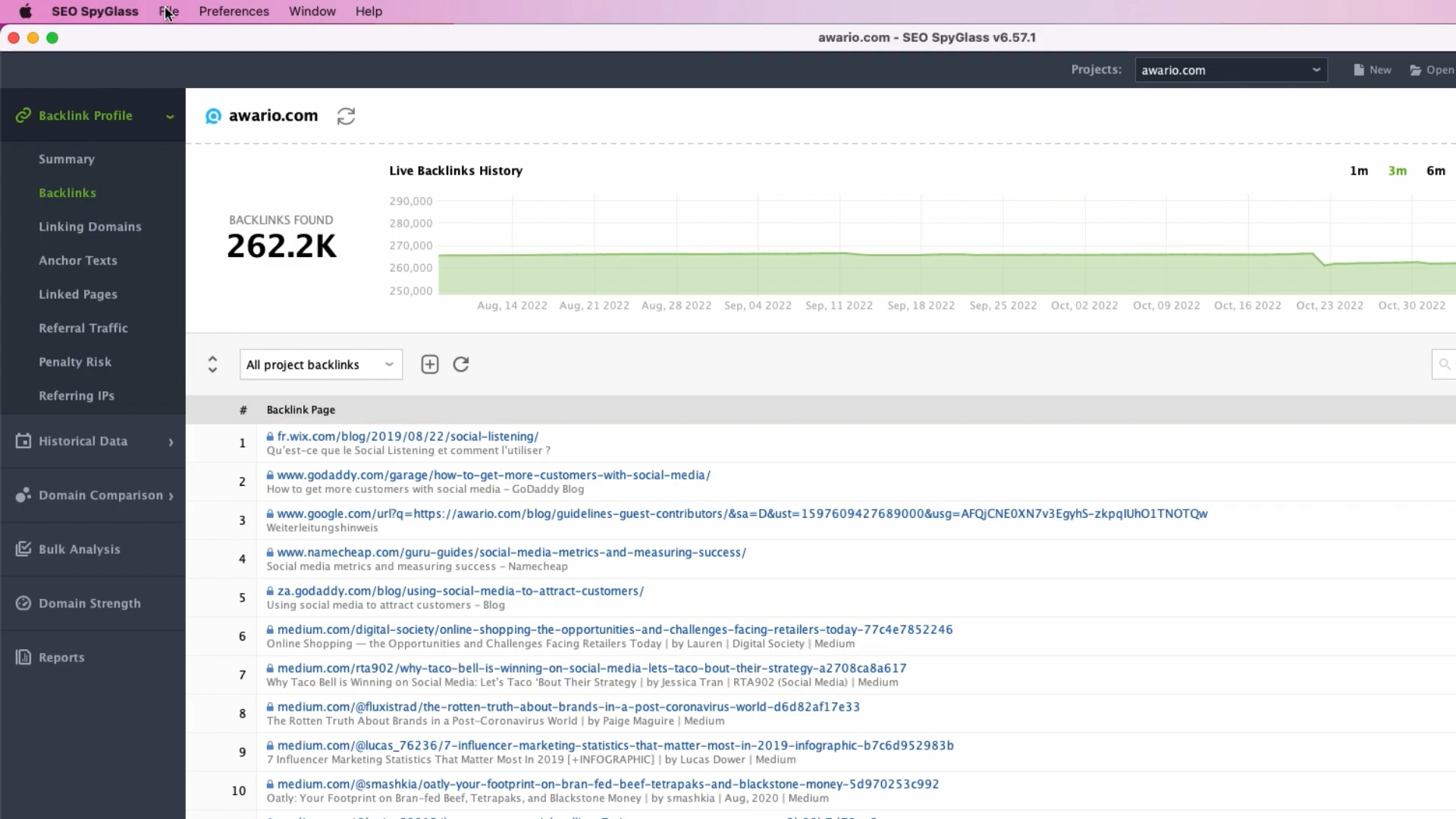 Pricing
The SEO PowerSuite Enterprise SEO tools package is $699 per year while the SEO PowerSuite Professional plan costs $299 per year.
However, sometimes there are a couple of promotions for SEO PowerSuite, like today in January 2023 the early most affordable plan will cost only $109: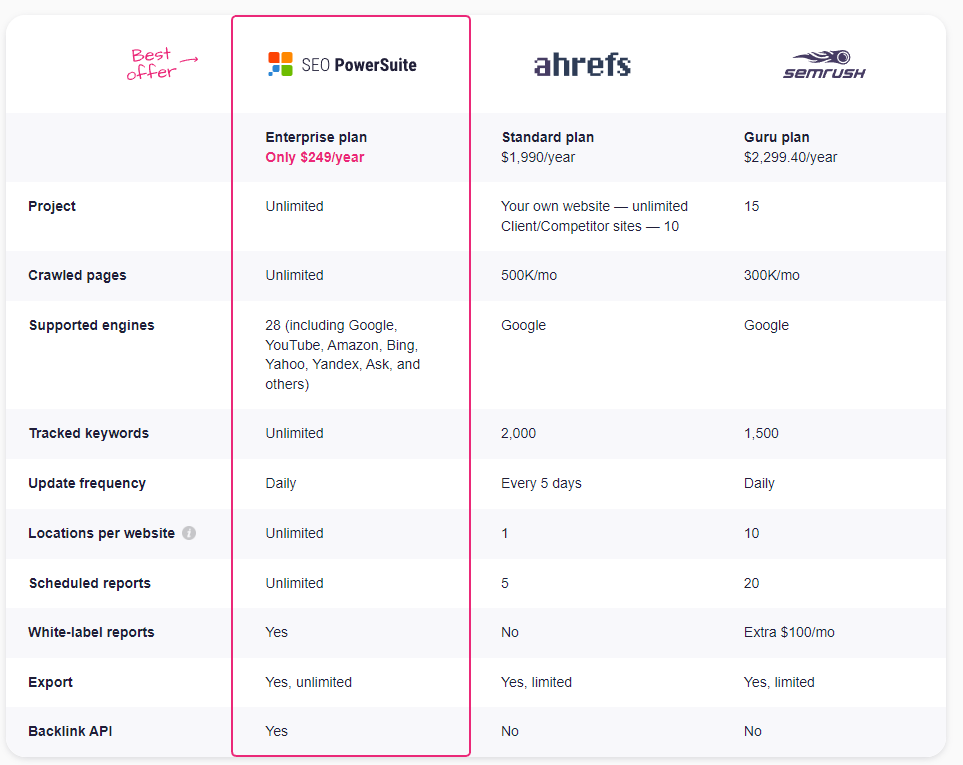 SEO Power Suite Vs Semrush
Because it is a desktop application, getting started with the SEO Power Suite might be a little bit more challenging. In addition, it does not seem to be as useful as other tools, such as Semrush.
Beyond that, compared to Semrush the contrast is rather straightforward: Semrush is superior for the typical internet business because of the mobility it offers across several channels.
2. Moz Pro
Small companies who want to manage their organic search from a single dashboard may do so with the help of Moz Pro, which provides a full array of SEO tools to help you define your SEO strategy.
Freelancers will also find much to appreciate, as certain Moz Pro features have trial periods that allow for free use with all tools: backlink analysis, keyword research with respective keyword difficulty, and other SEO tools.
Moz Pro still offers the platform's best capabilities, like keyword research and Link Explorer, and presence on search engines connecting with google search console, which may be worth the investment for larger businesses. Moz Pro as a whole, however, may not provide enough granularity for handling more than one domain.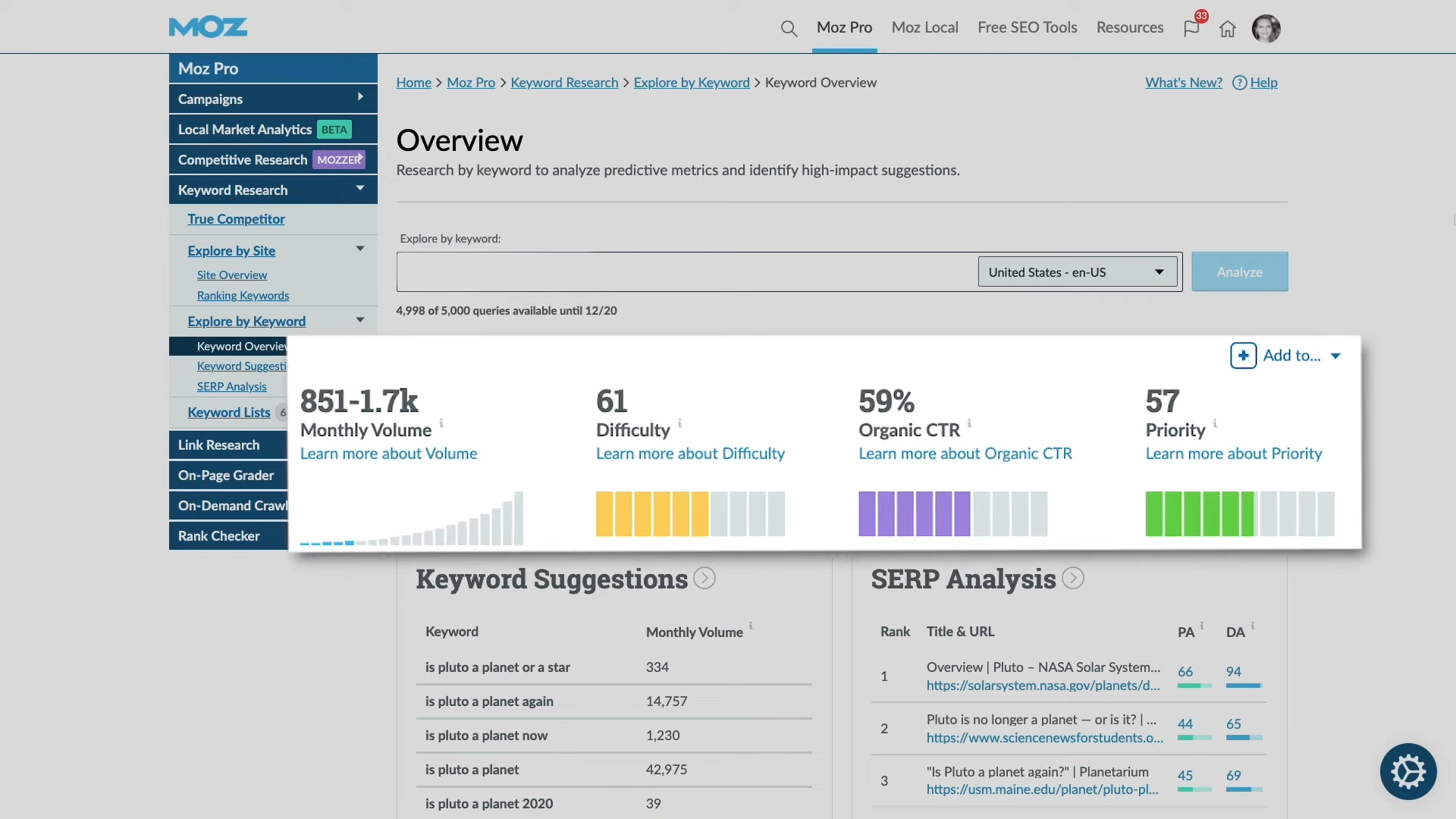 Moz Pro has you covered in all the essentials of search engine optimization, although it focuses more on link analysis and keyword research than on technical SEO site audit. It still includes SEO tools like keyword research, backlink research, keyword planner, backlink monitoring and etc.
When talking about Semrush alternatives, Moz Pro is one great option.
Pros
A comprehensive range of functions and many different resources for SEO analysis.
New functions are always being added.
You may try out the program for 30 days without spending a dime.
To facilitate access from any location with an Internet connection, the service is hosted on the cloud.
Cons
Sets restrictions on resource use to avoid excessive use.
The user interface is older and more complex than that of the competition.
Pricing
Moz Pro is available in four different packages ranging in price from $99 to $599. You may also try out Moz Pro for 30 days without paying. Look over the many versions and their associated prices to choose one that fits your demands and your wallet.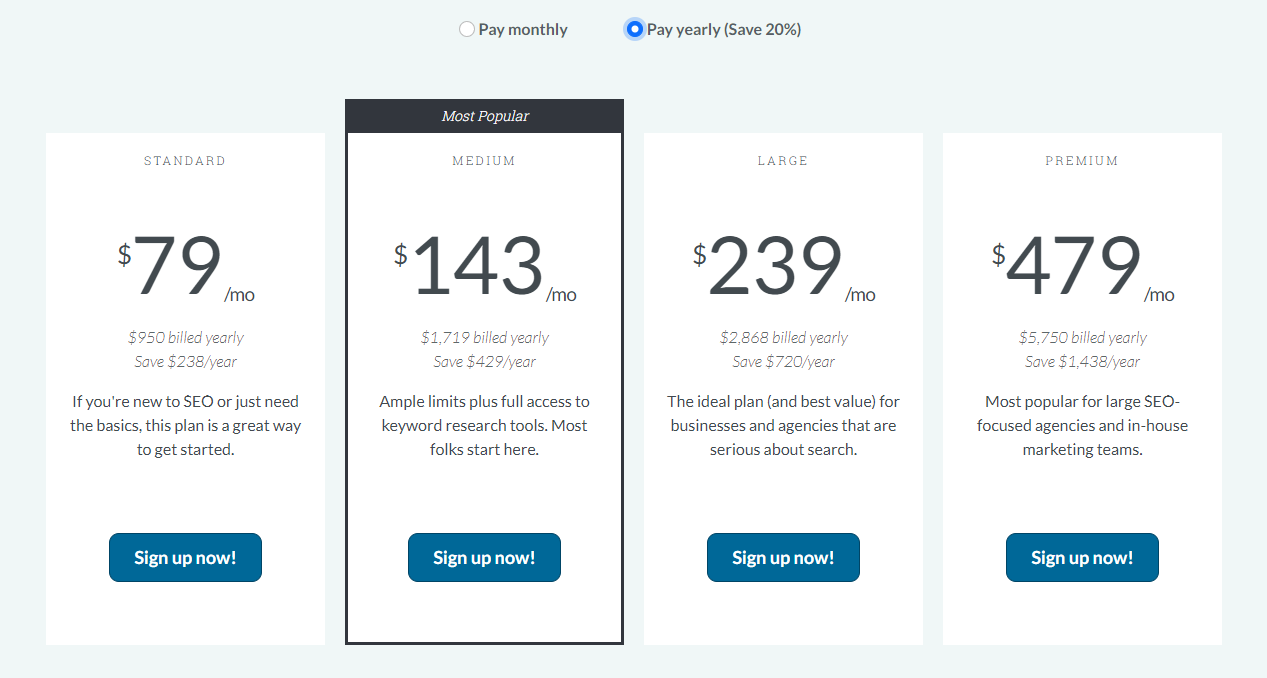 SEO Power Suite Vs Semrush
Among all Semrush competitors, is Moz Pro a better SEO tool? Which one works better? Even though Moz has its good points, I do better with the help of Semrush.
The learning curve is lower, a better user interface, there are more features like google search console integration, a better way to monitor backlinks, the reporting thresholds are higher, and management tools make it possible to run link-building campaigns like a pro (and without ever leaving the platform).
If Moz was much cheaper than Semrush, I might give it serious thought. However, since the prices are so close. Simply put, Semrush is a much better SEO tool than Moz for the same price. But don't get me wrong Moz Pro is still a great SEO tool.
3. Ahrefs
Content strategy and search engine optimization (SEO) for the Google search results pages (SERPs) are two of Ahrefs' primary functions.
Aherfs is an SEO tool that collects data about what's popular, what target keywords are being used, and other search-related data.
Users can also look at sites that are in competition with them. It has a great historical data tool giving you a lot of insights about keyword rankings and keyword ideas for writing your content.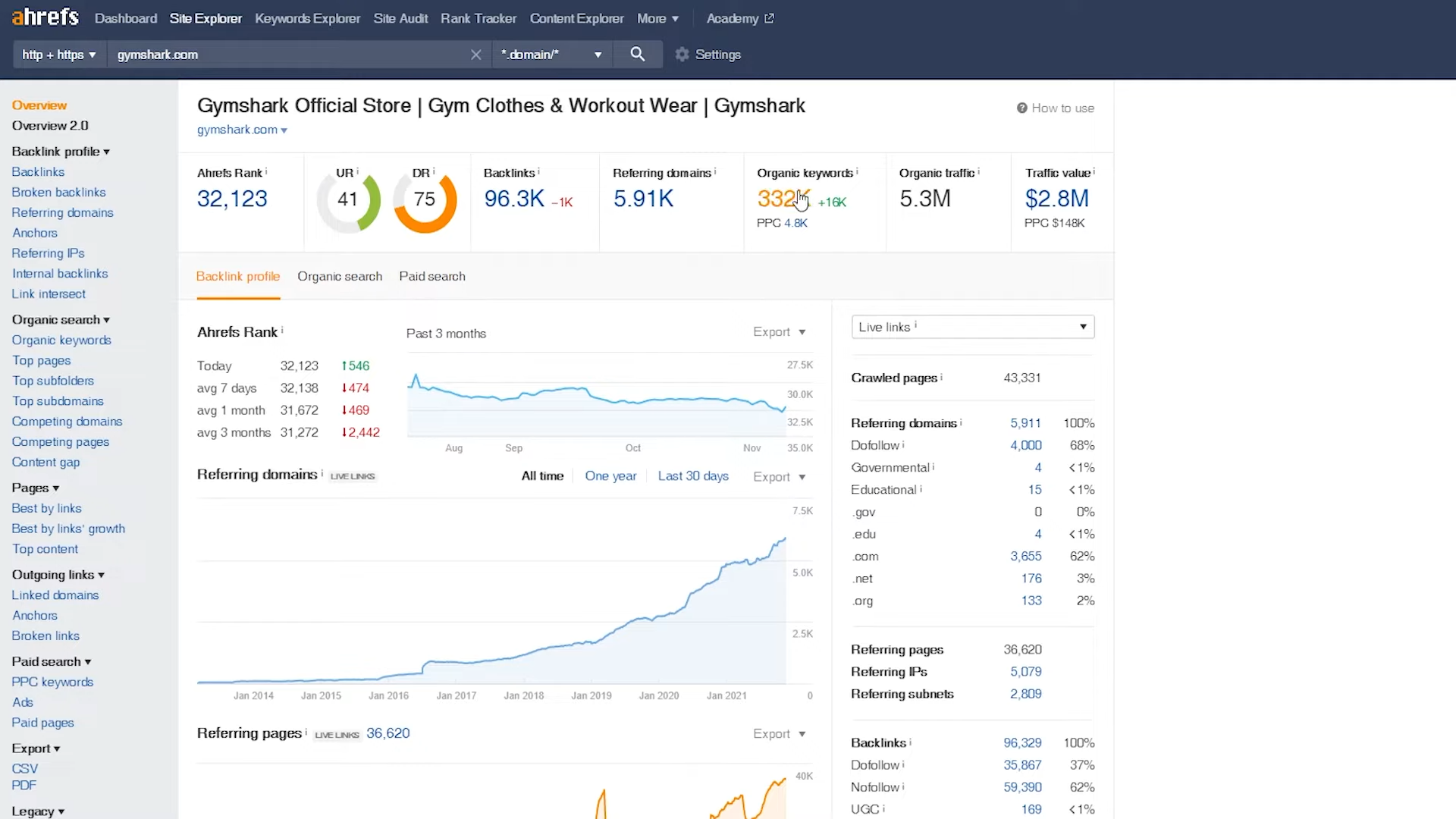 Also, Ahref is useful for making keyword research, link building, and monitoring SEO performance with the Ahrefs site audit tool. You may learn more about the competition and how to improve your own search engine rankings.
Pros
Top-notch tool for keyword planner and on page SEO checker.
The company's keyword research tool is unparalleled in the industry.
Monitoring your domain. Search volume for both your site and the sites of your competitors can be monitored.
There are no costs involved. Ahrefs offers no-cost keyword research tools.
Very user-friendly UI. The user interface is intuitive.
Cons
Relatively speaking, it's expensive. If you don't produce much material, you won't benefit from this tool.
Free tools are not that great. The free tools like backlink research and keyword suggestion tool lack reports and insights.
SEO information may be confusing and daunting for newcomers.
Price
Ahrefs has several plans with different SEO tools. Unless you have an SEO budget, all options are pricey.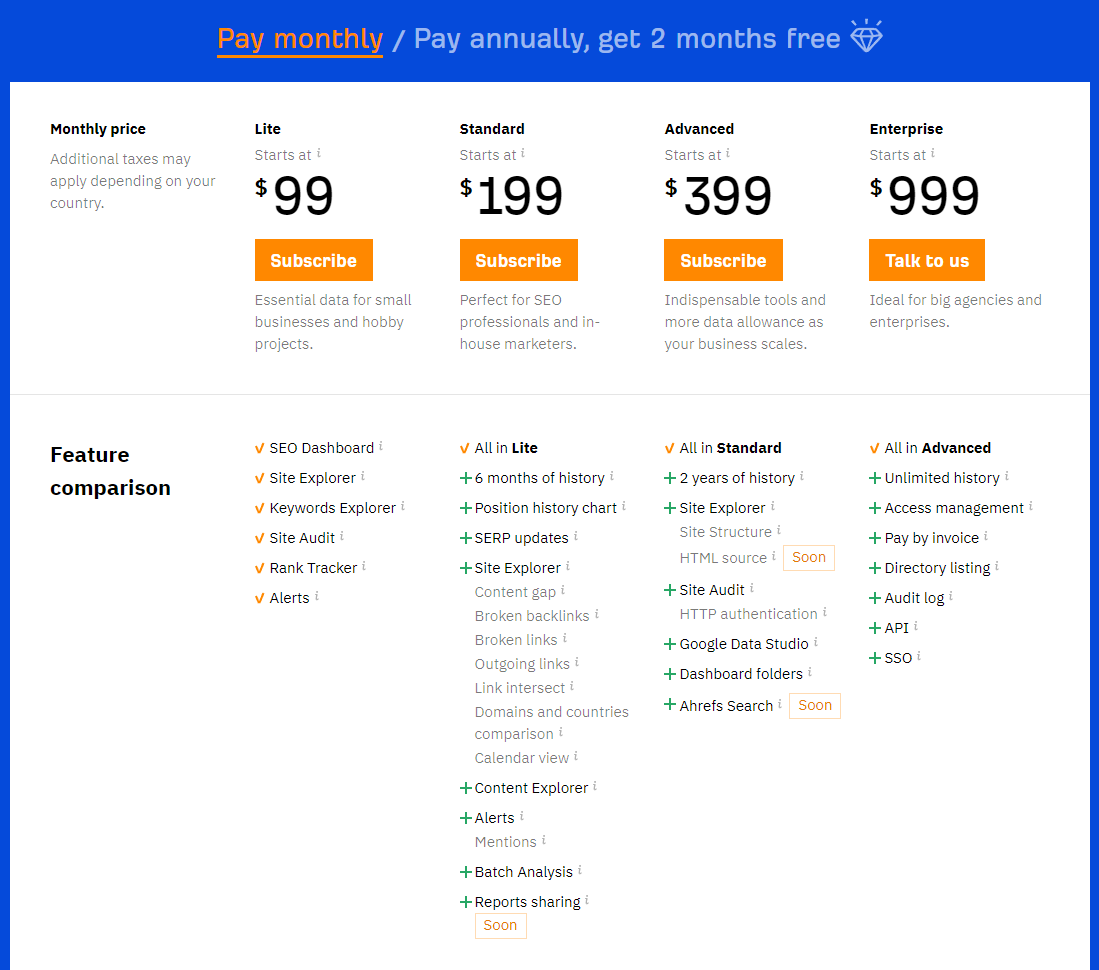 The lowest Lite tier is $99, while the highest costs $999. Small businesses can afford the former. Freelancers and new publishers fare worse. Each tier adds projects, keyword tracking, and reports.
Ahrefs Vs Semrush
No matter which one you choose, though, you won't go wrong with Ahrefs or Semrush. Both of these suites are outstanding, and they continue to develop and add new capabilities.
If you're looking for the fast delivery of comprehensive data about your site's performance and further direction on how to enhance its technical aspects, then Semrush is the tool for you.
If you want to go further into the content and analysis of your competitors and are more concerned with keyword click statistics than keyword traffic, then Ahrefs is the tool for you.
4. Ubersuggest
Ubersuggest was developed by Neil Patel and is used as an SEO and marketing keyword tool. You may improve your website's rankings with the software's assistance thanks to its extensive library of keywords, content ideas and it's link building tool.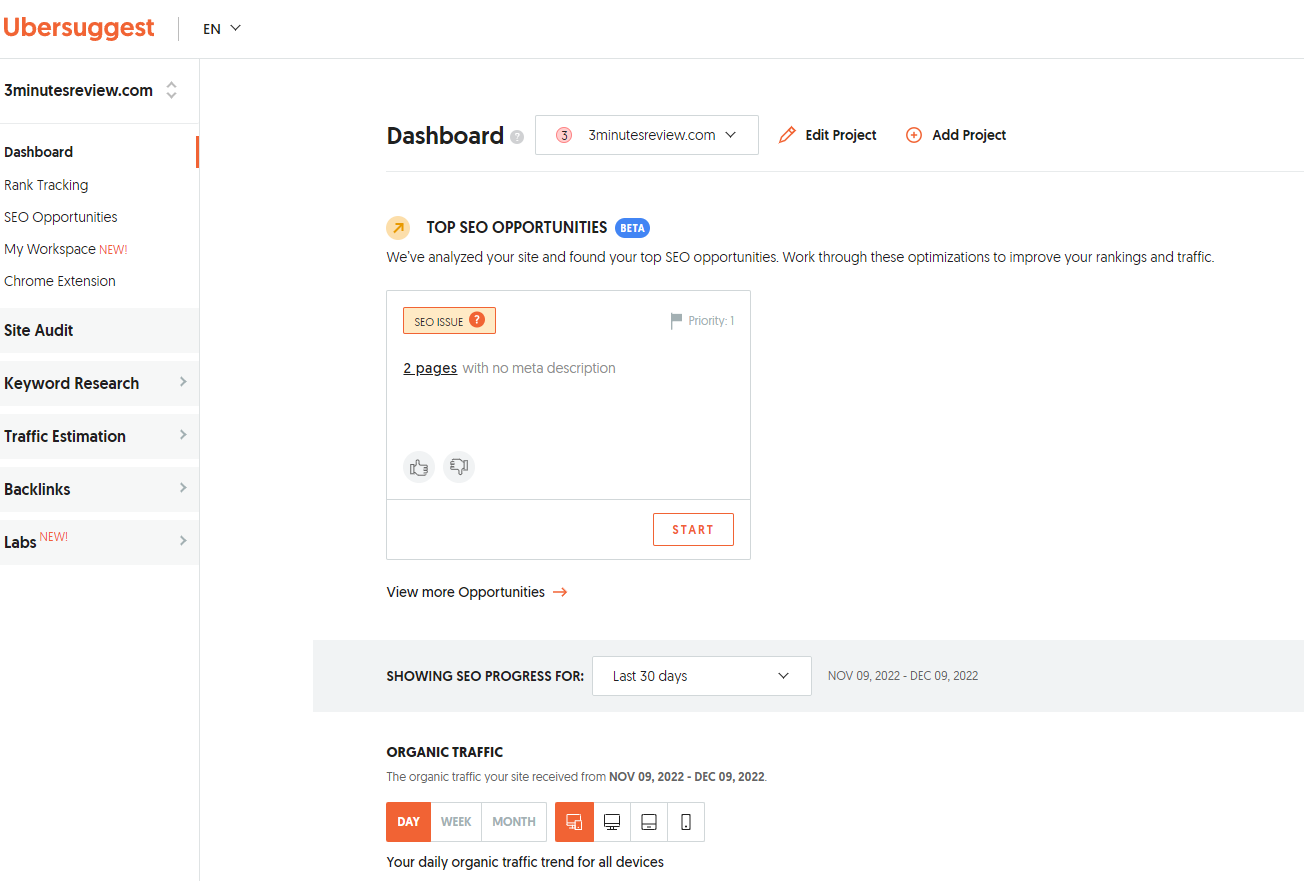 You may monitor not just your own website but also the websites of your competitors and get updates on your SEO performance on search engines and create increase your organic search traffic.
But this is only the tip of the iceberg; the SEO tool has a variety of other capabilities that are meant to set you apart from the competition like keyword suggestion tools, keyword planner, link building tool, and others.
Pros
An excellent onboarding when learning to use the tool
Get free instruction on how to create an SEO plan
Cost-effective when compared to similar SEO resources
Very simple user interface
Social media dashboard
Great keyword planner
Good site audit
Google chrome extension
Cons
It may take a while to finish many reports.
Limited standard plan
There is no mobile available app
Price
When you sign up with Ubersuggest, you'll have access to a free desktop site audit tool that you can use to look into the offerings of your competitors.
Unfortunately, the free service only allows three searches every day.
Paid plans are available for those who want access to all of the features that Ubersuggest has to offer. What follows is a list of the prices that were actually collected.
There is a 7-day free trial available for Ubersuggest if you are on hesitant about committing to one of their programs.
It will provide you with valuable insight into the potential returns on your investment. Also, there is a 30-day money-back guarantee included.

Ubersuggest Vs Semrush
Rankings can be boosted, performance can be measured, and new insights can be gained with the help of either Ubersuggest or SEMrush. Of course, each has its benefits and drawbacks.
SEMrush provides more tools for advertising, however, Ubersuggest is less expensive and easier to use. While SEMrush has many useful SEO functions, the finer points are often difficult to grasp.
Therefore, I would suggest Ubersuggest for companies who need basic search marketing capabilities but don't want to break the bank doing it.
5. SpyFu
SpyFu's purpose is to aid in "spying" on rival businesses, as the name indicates. The program excels not only as a domain and keyword analyzer but also as a backlink checker.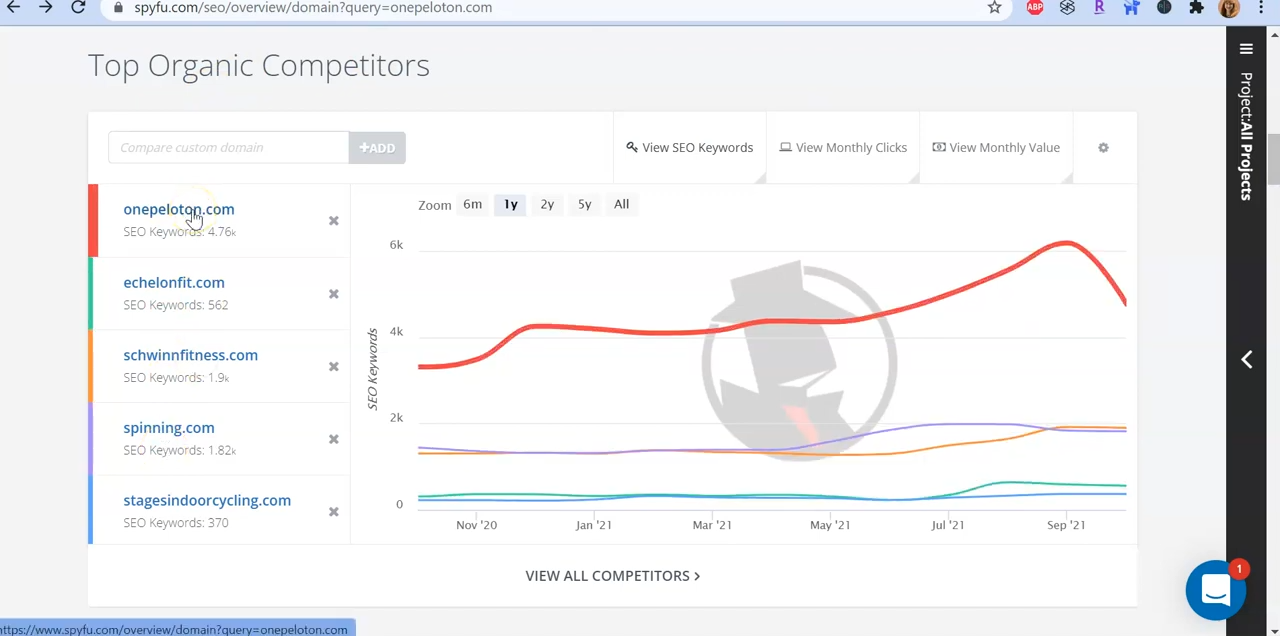 SpyFu is an affordable solution for small companies who wish to prioritize the metrics that will send them to the top of Google's search results.
SpyFu advertises itself as a thorough tool for domain and keyword research, without the boring data-heavy dashboards.
It's a great choice for smaller companies who only want to optimize for the most important KPIs and get to the top of Google's search results pages.
Which Semrush Alternative is Right for You?
Now that you know the 5 best Semrush alternatives, it's time to decide which one is the right fit for you.
If you're looking for an all-in-one SEO tool with powerful features, then SEO PowerSuite, Moz Pro, and Ahrefs are all great options.
If you're looking for a powerful SEO tool that's free, then you should check out Screaming Frog, SpyFu, Google Keyword Planner, SERanking, SEMrush Free Tool, MozBar, Google Ads, and Google Analytics.
No matter which Semrush alternative you choose, you're sure to find a powerful tool that can help you take your online marketing efforts to the next level.
Pros
An excellent tool for monitoring the advertising and keywords used by rivals on Google.
You can save and exports a copy of the reports for future reference
Low price with a membership costing less than US$39 per month.
Cons
Estimates of keyword traffic and volume have a degree of imprecision.
The results may be more useful if they were broken down by country or area.
Pricing
There are three tiers of paid membership, with the cheapest being the Basic plan at $79/month (paid monthly) or the most expensive being the Agency plan at $999/month (paid monthly) or $833/month (paid annually).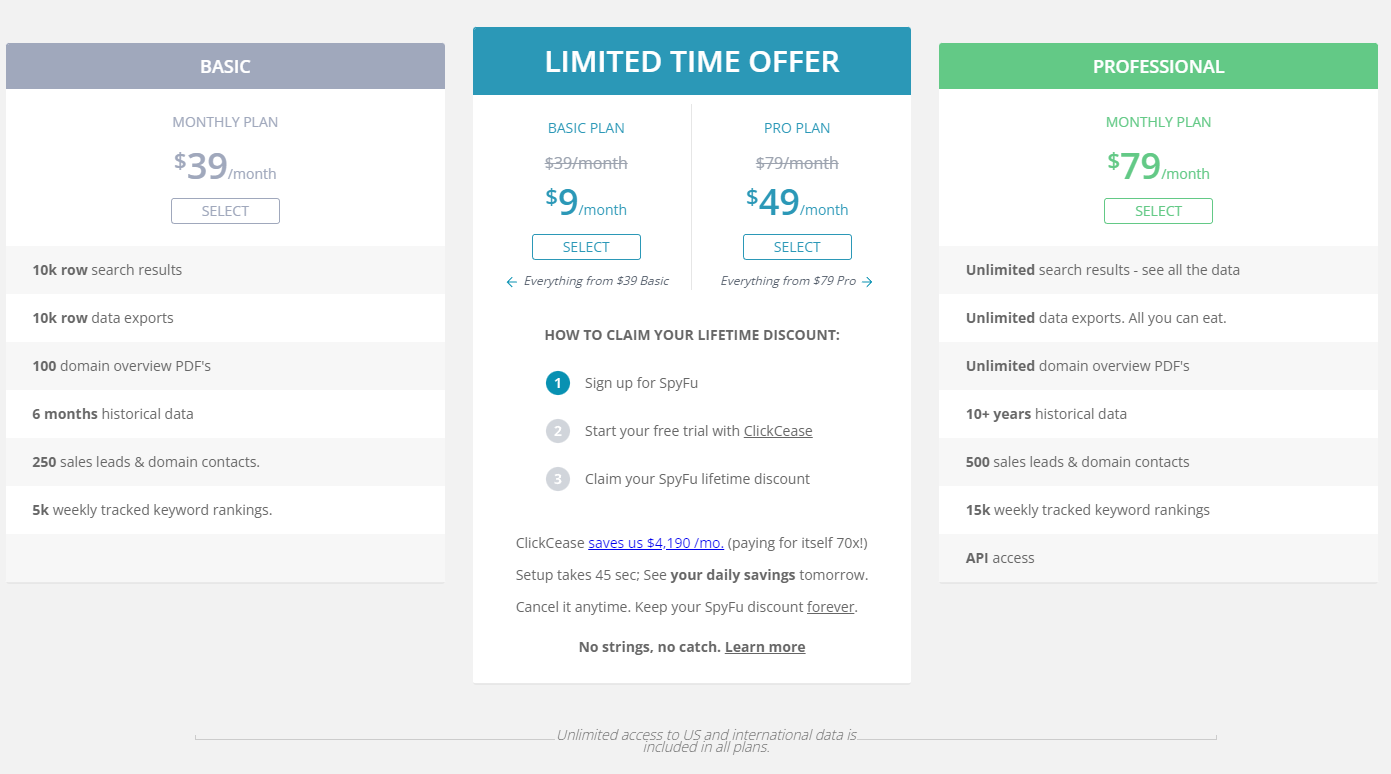 SpyFu vs Semrush
To be fair, unlike SpyFu, which is more focused on competitor analysis, Semrush is an all-purpose SEO tool.
In contrast, Semrush is, in my opinion, the superior tool, even from the viewpoint of competitive intelligence.
As mentioned before, if you are conducting a competitive analysis, you must also monitor how your competitors are faring on social media. Unfortunately, this is not something you can do using SpyFu right now.
Another big disadvantage of SpyFu is that it only has two geo databases (US and UK) whereas Semrush has more than 140 geo databases.
Final Thoughts
Finding the right Semrush alternative can be a daunting task. But with the right information and knowledge, you can find the right tool for your needs and budget.
We've looked at 11 of the best Semrush alternatives for any budget. These tools offer powerful features such as keyword research, competitor analysis, website audits, and more.
No matter which Semrush alternative you choose, you're sure to find a powerful tool that can help you take your online marketing efforts to the next level.
So what are you waiting for? Get out there and find the perfect Semrush alternative for your needs and budget!